Combating Climate Change Through Solar Power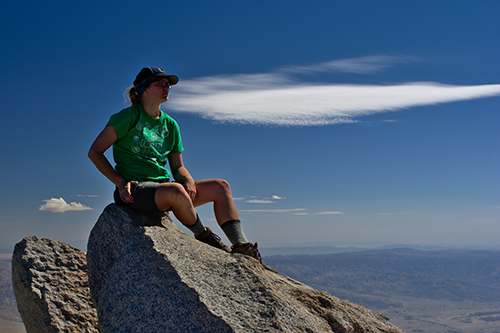 When Purdue University Stamps Scholar Theresa Saenz was working on a project that, if it worked, could increase the efficiency of a solar panel by one percent, she was ecstatic. While it might seem like a small accomplishment, this sort of development often takes 10 years to accomplish. She plans to devote her career to making more advances in solar panels for use around the world.
Saenz grew up in Michigan City, Indiana and developed her passion for engineering at Michigan City High School. She had also always been interested in sustainability. Attending an engineering camp at the Rose-Hulman Institute of Technology, where she did a project on biofuels, helped her release how she could combine her two interests.
She said "Engineering is a lot of open-ended questions and having a lot of fun approaches to dealing with problems."
She was drawn to Purdue because of its strong engineering program. During her time in college, she has worked with a team of 15 students to install solar panels at an all girls school and orphanage in Himalayan India. Keri Kukral, an alumnae of the University, founded Raw Science Television, which produces stories about science, and works with Saenz on the project. The school and orphanage in India rescue victims of human trafficking and give them a chance to receive a S.T.E.M. education. The solar panels provide a more consistent energy source than the generators currently being used.
"It's really an egalitarian source of energy," she said. "If you have a school in India, they can get a set of solar panels and have energy as opposed to if you're building a coal plant, it needs to be an entire region because it's a lot bigger cost."
After her freshman year, she worked at the Colorado School of Mine focusing on improving the efficiency of thin film solar cells. The next summer, she interned at the National Renewable Energy Lab. There, she developed a process for making a metal contact with improved performance for silicon solar cells.
"The internships for me were probably the most important part of college because I felt they really put into perspective what I was learning in the classroom," she said.
She recently returned from studying abroad at the University of South Wales, one of the top universities for solar research.
"Study abroad is good for teaching you that it's important to go with the flow of things," she said. "You're in an entirely new country, and there are a lot of things that are different."
This past summer, she interned at the California Institute of Technology. Her research was on effectively transparent contacts for solar cells. The contacts are designed to allow more light into the solar cells, which helps them produce more power. Her project has already led to a conference paper, and she hopes to help produce a journal paper in the future.
"It's a difficult thing to do, but it's a very important result if it works," she said.
She is currently applying for a Fulbright Fellowship to go to Germany to continue her solar research at a national lab there.
She is then going to take a few months off to hike the Colorado Trail. Hiking and rock climbing are passions of hers. "It's an interesting way to exercise," she said. "It's very physically strenuous, but it's very much a mental exercise thinking about how you're moving. It's a bit of an adrenaline rush."
She plans to then go to graduate school and eventually work in a national lab as a research scientist.
"The biggest thing about the Stamps scholarship is how much flexibility it gives you," she said. "You are freed up to do whatever you think is the best choice for your career path."