Making Changes Through Leadership and Computer Science
By Hannah Steinkopf-Frank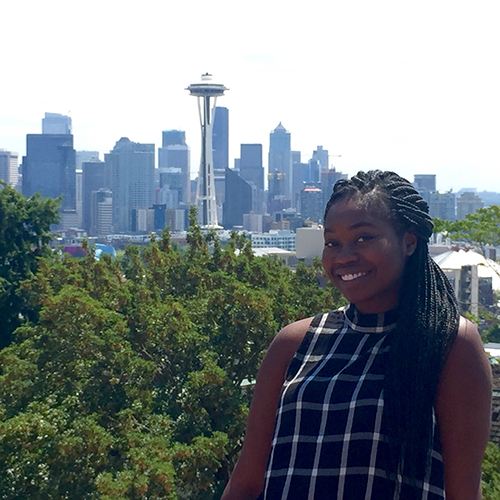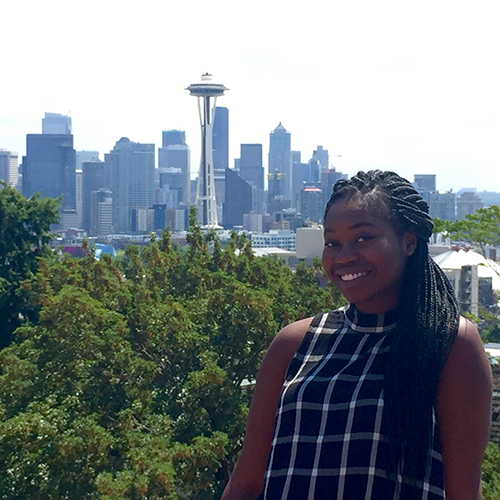 University of Texas, Austin sophomore Jacqueline Gibson sees computer science as a way to make a difference in the world.
Gibson grew up in Cedar Hill, Texas and attended Ursuline Academy of Dallas. At Ursuline, Jacqueline served as the president of the Sewing for Others Club, which completed service projects for children hospital patients and orphanages in Africa. In high school, she earned her Girl Scout Gold Award, founded the T.E.E.N. (Teens Engaged in Excellence Now) Day of Service, and was the president of the Ursuline Ambassadors. She developed an interest in international issues as the vice president and delegate of the Junior World Affairs Council and as the secretary and travel delegate in Model UN. She was also the piano section leader in the orchestra. Gibson graduated Summa Cum Laude and was the recipient of the Sedes Sapientiae Award, the highest honor bestowed annually by the faculty and staff to one graduate.
Taking a computer science class in high school sparked her interest in the discipline, something that was solidified at the University of Texas at Austin's First Bytes Computer Science Camp for Girls. There, she learned just how expansive the opportunities were outside of simply coding. Jacqueline returned the next summer as a residential assistant and technical lab assistant, helping campers learn to code in C++
"Computer science is, in my opinion, one of the greatest tools we have access to as a society," she said. "I always knew that I wanted to solve some of the world's most pressing problems, and CS is a means for me to do so."
For college, she wanted to attend an institution with a top computer science program that also offered a community of support. The University of Texas had a top ten-ranked computer science program with numerous research opportunities for undergraduates. She said that a conversation she had with E. Roe Stamps during her application process was the deciding factor in her college decision process. He spoke to her about the University of Texas at Austin's Forty Acres program, which with the support of the Stamps Foundation, brings the country's most talented students to the University.
​"I knew I wanted the opportunity to be a part of an amazing community of support in my academic endeavors, and having the Stamps Foundation investment in my future is a great additional benefit." she said.
At the University of Texas, she has been involved in a variety of programs related to her field of study. In addition to being a founding member of The Association of Black Computer Scientists, she is a member of Women in Computer Science, The National Society of Black Engineers, and the Technology Enhanced Education Oversight Committee. She has also been heavily involved in the Senate of College Councils, a legislative student organization, as a freshman at large member and now as the academic enrichment committee co-chair.
"The University is very large, however, I was fortunate to find organizations that serve as sub-communities for me and allow me to continue to grow, learn, and serve," she said.
​    As a freshman, Jacqueline conducted research in autonomous intelligent robotics under the supervision of Professor Jivko Sinapov. This was her first opportunity working in a formal research lab. She said, "Professor Sinapov pushed us to think innovatively about problems we saw around campus and to use our robots to develop solutions."
​She is spending this summer interning at Microsoft's headquarters within the Cloud and Enterprise group as part of the Developer Division. Her team is developing an internal tool used to streamline client interaction across various platforms and improve overall team efficiency. Outside of work, she practices with her a cappella group.
She is also volunteering with Code Cadets, a camp aimed at introducing middle school students to computer science. She serves as the C# and Scratch instructor for 6th and 7th grade students. She said, "Service keeps me grounded and connected to my community."
In her free time, she enjoys playing piano, reading, crocheting, and listening to Broadway musical soundtracks. She is also an avid foodie and enjoys baking, cooking, and exploring new restaurants.
​            This fall, she will start her sophomore year and develop her research while serving as an undergraduate teaching assistant for a first year signature course in surveillance, which examines topics of technology and privacy through the lens of sociology. She also will continue her commitment to service by working with younger students in STEM fields and staying involved with student and local organizations to find ways to make tangible contributions on campus.
​            She hopes to use her enrichment fund to travel abroad during her junior year and is planning to take machine learning and artificial intelligence courses in London with the hope of conducting research with a local professor. ​
​            After graduating, she is contemplating working as a software engineer or pursuing a PhD with focuses in human-robot interaction and machine learning. Additionally, she is passionate about gender equality and plans to play an active role in initiatives dedicated to ensuring every girl has an opportunity to learn about computer science. Her ultimate goal is to play an influential role in mentoring the next generation of female leaders, serving as a positive role model, and breaking down barriers.
"The scholarship has afforded me the opportunity to pursue my education and passions with a support network beyond what I could imagine," she said. "Being a Stamps Scholar has given me access to an incredible network of individuals and opportunities."