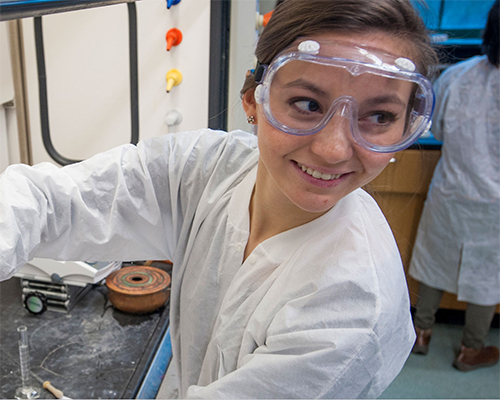 This environmental chemistry honors student from Hebron, Conn., stays in step, whether designing a better pacemaker, volunteering as a medical aide in Peru, or winning Irish Dance championships.
Why did you decide to come to UConn?
At first, I thought that I wanted to go somewhere really far away, and I also thought initially that I wanted a smaller school, but then I got this really great scholarship from UConn — I got a full ride with the Nutmeg scholarship, and on top of that I got a Stamps scholarship. That kind of changed my perspective. Then I met with a couple of professors here and we talked about plans, including access to research, because research at the undergraduate level was super important to me. So I came, and I've loved it ever since.
When did you first know you wanted to be involved in science?
I think it was after sixth grade, when I came up with my first idea. I was in Grand Central Station thinking about the amount of energy that humans have, wondering about doing something to harness this human energy. That's how I came up with my first prototype, a piezoelectric tile that generates electricity from people walking on it.
Was that the high school research you got a grant to continue here?
No. My sophomore year of high school, I came up with a way to harness the air that emanates from human lungs so that it will vibrate a piezoelectric prototype that I made, and from there it can power a pacemaker. I wanted to come up with a renewable energy source for pacemakers so that you can constantly recharge the battery while it's in your body.
Before 'scientist,' what did you think you'd be when you grew up?
I think I wanted to be a waitress — a waitress and a mermaid. I still haven't had a waitressing job, but that's okay.
What's been your most memorable UConn experience so far?
I would say freshman year in Buckley. I met so many people from across the country, which kind of erased my worry of being so close to home.
What's your most embarrassing freshman memory?
I have an embarrassing sophomore memory. I lived in Connecticut Commons on the third floor. Coming home from the library after studying, I came up to the second floor and walked into what I thought was my room . . . it was not, and there was someone sleeping. I felt so bad. I don't think they woke up, but I was like, "This is not my room."
For four years you've been the first-place winner at the New England Irish Dance competition. How do you balance your training with your academic life?
Last year, I worked with a choreographer, and I work at my dance school, which is off campus. So I dance on Fridays and Saturdays with my teacher, and then through the week I go off campus and practice in the studio.
How often do you train?
I try to get in 20 hours a week. That's at least three times during the work week as well as weekends. There are definitely some days when I'm too busy. But I just love it — it's a lot of fun, keeps me in shape, and keeps me focused.
Do you feel like you connect your passion for science with your dancing?
Absolutely. As a dancer, you're so aware of your level of energy, the other dancers around you, their energy, movement, position, spatial awareness. It's definitely all connected.
Is there anything else you like to do in your free time — if you have any?
I also like to surf. I go to New Jersey and surf there. I've been to a couple other places; I actually surfed in Peru when I was there doing medical volunteering.
Can you talk about your time volunteering in Peru?
On campus I'm involved with Medlife, which is a national organization that sends medical brigades to third world countries. Last winter I went to Lima, Peru, and we set up global clinics and brought health care to, I think it ended up being 1,500 patients in Lima.
It was a great experience. I got really close with the other people on the trip, and to go to another country that speaks a different language and become aware of their health issues and various ways to solve them was really eye-opening. It definitely set me on the path of "I love global health and I think that global health is so important."
You were first runner-up in the Miss Connecticut pageant this year. What made you decide to compete in a pageant?
I don't want to say I did it as a joke. It wasn't a joke, but I was like, you know what, I'm from Connecticut . . . I'm just going to do a local pageant and see what happens. So I did the Greater Rockville pageant and I won! So I'm Miss Greater Rockville for this year. And then back in June I competed at Miss Connecticut, which was a lot of fun. For most of the week I really didn't know what I was doing, but the reason I did that pageant was because talent is one of the biggest categories. I thought, "Oh, I can dance, I can do something onstage."
What is your post-grad goal?
Med School.
Do you have a favorite quote that keeps you motivated?
"Always know that you are braver than you believe, stronger than you seem,
and smarter than you think." It's from Winnie the Pooh.
###
Original article posted in UConn Magazine can be found here:
http://magazine.uconn.edu/2017/02/bridget-oei/