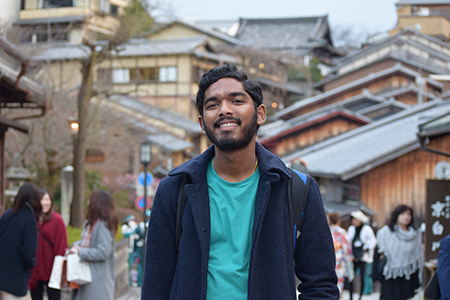 Changing the American Education System, in the Classroom and Beyond
By Hannah Steinkopf-Frank
Lernfreude: It's a German word referring to the "love of learning" that captures University of Georgia Stamps Scholar Kavi Pandian's dedication to improving the American education system.
Pandian was born in New Rochelle, New York, but grew up in Atlanta. In high school, he was part of the Governor's Honors Program, where he had the opportunity to learn with other dedicated students. Having studied German from fourth to eleventh grade, he related this experience to Lernfreude. "I realized that Lernfreude as a concept had really crystalized for me at that summer program, so I knew I really wanted to work in education in a way that I could bring that to more students, help more people come to appreciate school and learning and the joy that that can bring to you in your life."
He became involved in county-wide efforts for education, including a superintendent's advisory council, and was a student representative at a strategic planning meaning after an accreditation scandal in his district. "I got to be the student voice in setting the chart of the district for the next five years."
The summer after his junior year, he won a National Security Language Initiative for Youth Scholarship, a State Department program through which he spent seven weeks in Turkey learning the language and living with a host family. "That was a very eye opening and impactful experience. I learned a lot about the people, the language, and the culture, but I think I also learned a lot about myself."
At the University of Georgia, he studies sociology and economics and is in the Honors program. His freshman year, he became involved with the organization RefUGA, which is focused on refugee advocacy and education efforts. He served as the vice president of education and put together educational materials, presentations, and simulations of the refugee process.
As part of the Foundation Fellows Program, he went to the University of Oxford after his freshman year, where he learned about English Common Law. He spent the rest of the summer backpacking around Europe with fellow scholars.
During his freshman year, he began working at the university's Institute of Higher Education, including helping with the Georgia College Advising Corps, a nonprofit AmeriCorps organization that places counselors in underserved and struggling schools throughout the state. "It helps increase college to a lot of underserved populations, and it has kind of become a second home on campus for me."
He also completed two internships, one with the JW Fanning Institute for Leadership Development, which works to build capacity among local leaders. As part of this internship, he worked with Athens's Peer Court, a diversionary program for youth who committed crimes. As a student intern, Pandian helped craft opening and closing statements and discussed what restorative justice was and the role that played in students' recommended dispositions.
His other internship was working with Dr. Russ Cook on the state of Georgia's plan for the Every Student Succeeds Act (ESSA). He studied how the state can best be in compliance while focusing the interests of students as much as possible. "I learned a ton of stuff about the specific rules and regulations of that major piece of federal education policy and got to learn a lot about how Georgia is approaching this state plan and how they're eventually going to submit it."
As part of the Stamps Scholarship, he had the opportunity to travel to New York and D.C. his freshman year, where he met UGA supporter Supreme Court Justice Clarence Thomas. During his sophomore year, he studied Buddhism in Japan and South Korea, where he witnessed the president's impeachment. "That's one of those experiences that will be with me my whole life, and it's one of those things I only have thanks to the Stamps Scholarship and the Foundation Fellowship"
At UGA, his efforts are now concentrated on a prison tutoring program he started with a good friend. He knew programs providing GED classes, tutoring, and even college courses for inmates "had a proven track record of reducing rates of recidivism and really made an impact on people's lives." He is excited to bring on more student volunteers and expand the scope of the program. "There was a lot of one on one attention that we were able to give." The first group of students recently took the GED. "My goal is to create a really robust, established program that will keep on helping and become a staple of the community."
This past summer, he was part of the Honors in Washington summer internship, which is through UGA's Honors Program. He interned at the District of Columbia Public Schools' (DCPS) Office of Instructional Practice. He was part of the Urban Education Leaders Internship Program working on the LEAP Team, a new professional development initiative that includes summer intensive institutes for teachers and school administrators. "It's not just about managing a classroom, but knowing the material really well and building up capacities at schools to support the teachers themselves and finding ways to teach that are most culturally responsive and aware of the unique context of school." Pandian also helped with the innovation team that is pioneering the use of video for teacher observations and feedback.
In addition, he worked with District professionals to learn more about DCPS's implementation of restorative justice in their schools, a topic Pandian spent an entire semester researching for an Honors Policy course. "My hope is to take that back to the Clark County School District," around the University of Georgia. "I think there is a lot to be done locally, and I really want to work to try to help them figure out policies or shift some of their practices away from punitive to more restorative practices."
Currently, he is working with the Carl Vinson Institute of Government's International Center on a personal research project involving the children of Korean diplomats and other expatriates living in the United States. He is interviewing the youth and their families about their experiences transitioning to the American education system. He is hopeful that this knowledge can be used for training sessions for future Korean families coming to the U.S.
After graduating, Pandian intends to pursue various teaching fellowships, such as the James Madison Graduate Fellowship. He plans to eventually get a master's of education and to serve as a middle or high school social studies teacher with a focus on urban, high-need schools. He also wants to get experience outside of the direct school context, working for an education nonprofit or policy organization. "I've spent the last 20 years of my life in an educational setting of some type, so I really want to take some time to see what the rest of the world looks."
Although he is unsure where he will end up, "I want to make a difference inside the classroom as well as outside of it. I really want to make a difference in education on a wider scale — beyond one classroom or one school."