Providing Healthcare on a Global Scale
By Hannah Steinkopf-Frank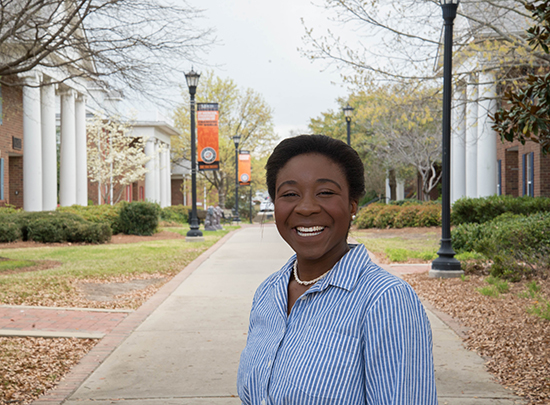 Mercer University Stamps Scholar Oge Onuh plans to use her background in global health studies to give back as a doctor around the world.
Onuh grew up in Carmel, Indiana before moving to Franklin, Tennessee, and attended MLK Magnet High School in Nashville. She was also a part of the School of Science and Math at Vanderbilt, a four-year, interdisciplinary program focused on research. By her junior year of high school, she was working in a lab and had written both individual and group papers. She studied macrophages to gain a better understanding of the human body's response to viruses. Additionally, she also researched the non-specific immune responses of Anopheles gambie larvae and their physiology.
She was excited to go to Mercer for the "all-encompassing and quality education." As a global health studies (GHS) major on the pre-medical track, she loves the "multidisciplinary structure that ties classes ranging from anthropology and environmental affairs to economics and international affairs. It provides for a multipronged approach in gaining a solidified understanding of the social determinants of health and how this impacts people all over the world."
As an undergraduate, she has continued research, studying phosphate concentrations for water with simple assays and understanding more about the human microbiome by culturing and sequencing specific bacteria from various skin types.
At the university, she is the vice president of the Tribeta Biology National Honors Society, which focuses on science-related community service. This includes teaching elementary school children fun facts about science, providing high school students the chance to dissect sheep hearts, and having guest speakers inform students about careers in science.
She is also a committee member for the community service chair of SNMA-MAPS, a pre-med club that provides opportunities for minorities in medicine. SNMA-MAPS works with the Macon community to bring in professionals in healthcare through galas where students can make connections and learn about the career path they intend to pursue.
In addition, she was a junior senator with the Student Government Association (SGA) and worked alongside the administration to help structure academic programs in the College of Liberal Arts. She is now vice president of SGA with the tasks of executing school-wide events and cross-programming with organizations around campus, as well as helping to make Mercer home for all students. Onuh considers herself to be self-conscious and introverted, but saw running for student government as a way to get out of her bubble.
"Taking leadership positions not only helps you grow as a person but also allows you to give back to an organization and institution that has given so much to you. For someone who was originally too apprehensive to come anywhere near student government affairs throughout high school and during her freshman and sophomore years of college, running for the entire student body vice president says a lot about how much I've grown and how Stamps and Mercer have influenced this process."
During the summer of 2016, she used her Stamps enrichment fund to intern under the NYU Sackler Institute and NYU Langone Medical Center. She worked in the Martin Blaser Lab studying Propionibacterium acnes and their role in the human microbiome. She also traveled to Dubai in Spring 2017 with Mercer's International Global Studies Department. Her trip to the United Arab Emirates included learning about Arabic culture and Islam by visiting mosques and exploring the incredible architecture and tourist destinations that exemplified the culture of Dubai and Abu Dhabi. She also learned about the leading organizations in renewable energy and visited the Masdar Institute of Science and Technology, where students study and apply innovative ideas through research and architecture to help reduce carbon emissions.
This past summer, she resided in Cape Town, South Africa for two months, working in a clinic in the Khayelitsha township to help open her eyes to a different kind of healthcare environment. She also conducted an ethnographic research project focused on patient care. "Working in a clinic that is so vastly different from the usual clinics I've shadowed in the States is an experience I will always treasure. From assisting with back slabs, casts, chest drains, sutures, and more, I have learned so much not only about medical practices, but also about how culture and social determinants of health are inextricable in quality patient care."
For her senior year, in addition to striving to join Phi Beta Kappa and maintaining a good academic GPA and relationship with her teachers and peers, Onuh would also love to finish her thesis project successfully. Outside of academics, she is working to ensure that the 2017-2018 Student Government Association administration is an impactful one. After graduating, she intends to go to medical school after having been accepted into the Icahn School of Medicine at Mt Sinai through the FlexMed program. She would love to provide healthcare globally through organizations like Doctors Without Borders or Operation Smile.
"The Stamps Scholarship is the reason I was able to travel abroad after having been out of the country only once before. I would have never been able to travel as much as I have during my college experience without the financial aid of the Stamps Foundation. Beyond financial assistance, I've met some of my closest friends because of the foundation and the national conventions, and it's cool to be part of a network of students pursuing different areas of interest. The Stamps family has, without a doubt, added towards my college experience for the better, and I am so thankful."