The Journey to Building a Game and Mobile App Company
By Hannah Steinkopf-Frank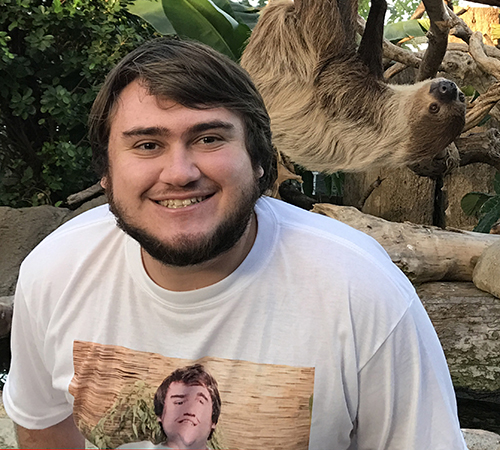 California Institute of Technology graduate Taylor Strumwasser is designing the next generation of games and phone apps personalized for small businesses.
Strumwasser grew up in Carlsbad, California, where he participated in acting and improvisational groups at Canyon Crest Academy. He "often played the comedic relief character, regardless of whether the play was meant to be a drama or a comedy." His goal was to "make people laugh."
While he enjoyed the performing arts, Strumwasser's true passion was for science and mathematics. Intending to study physics or biology, he chose Caltech since "it was one of the few places where it was cool to be a nerd." He also had a preference for the warm weather of his home state, as well as the relatively small size of the institute. At Caltech, he joined the fencing team, which he felt closely resembled the lightsaber fights of "Star Wars."
During the end of his freshman year, he began work on the Electric Dipole Moment (EDM) experiment in Professor Bradley Filippone's lab. The goal of this experiment was to determine if a neutron would form an EDM when exposed to a changing electromagnetic field. An EDM measures the polarity of a given system, which results from the non-uniform distribution of positive and negative charges. He was introduced to LabVIEW, a software for managing the lab's experiments that would lead to his interest in computer science.
Following his sophomore year, he was still considering a degree in biology. He stayed on Catalina Island to conduct a research experiment at the University of Southern California's Wrigley Institute. His project searched for the existence of iron-oxidizing bacteria in the sediment of Catalina Harbor.
"It was really cool to set up my own experiment. It wasn't a cookie-cutter type of project. I had to figure out exactly how I was going to prove there was bacteria in the sediment and how to set-up my controls. There are so many factors that you never consider in a typical lab environment."
Although he enjoyed biology and this experience, this project would ultimately push him to pursue a degree in computer science. He felt he was more attuned to developing efficient algorithms and coding reliable software than successfully performing experimental research.
His junior year, he began the graphics processing unit (GPU) track at Caltech. A GPU is a specialized electronic circuit made to quickly manipulate and change memory to accelerate the creation of images. They are used in everything from mobile phones to personal computers. His favorite part about studying GPUs was utilizing their thousands of cores to speed up an algorithm through parallelization.
"If you can design an algorithm to be executed in independent chunks, you can make the process go a lot faster with a GPU over a regular central processing unit (CPU). For me, its amazing to see just how a few simple changes can speed up the process by ten or even twenty times."
The next summer, he used his Stamps enrichment funds to travel to Japan and pursue his interest in video games.
"Frankly, Japan is the best when it comes to video games, so it was really worthwhile to see the arcades over there."
He noted many differences in Japanese games, such as a stronger emphasis on strategy and turn-based combat. He believes this experience helped him identify the subtle details in a game's design that made gamers both engaged and entertained while playing. Once he came back to the United States, he was motivated to continue his studies while also strengthening his knowledge in the user interface end of software.
During his senior year, Sunshine Rentals, a housewares rental business near his hometown of Carlsbad, reached out to Strumwasser and asked him to design a mobile app. This app connects to the company's dispatch system and provides routes for its installers and housekeepers, while also streamlining the process for its many services. He was excited for the opportunity to design a product from scratch.
"It was the first time I had to use my computer science skills in a practical setting. In addition, this business really emphasized their quality and services. They wanted to go above and beyond when making sure everything for their guests and customers was perfect."
While writing code for the app, he made a few scripts to test the database's interface with the app. He used the name StrumTech as a sample customer for Sunshine Rentals. He eventually came to love the name and decided it would be a waste to leave it hidden in the confines of a test script. He now uses StrumTech for his mobile app and game company.
Since graduating in the spring of 2017, he has continued to develop StrumTech Inc. Presently, he is adding more features to the Sunshine Rentals mobile app and preparing for the 2018 annual CHPA conference, where he will be one of four panelists discussing the applications of technology in business management.
In the meantime, he plans on teaching himself new skills in both app and game design, which is the type of cross-disciplinary, independent study he learned at Caltech.
"One of the greatest skills Caltech taught me was how to quickly and efficiently familiarize myself with new material. The school was also very good at having me connect completely different fields, like physics or biology. Caltech showed me that everything in science and math can be connected to each other."
Although he hopes StrumTech will eventually become a bigger company that can take on complicated projects, he enjoys being able to provide his own personalized touches to his clients' products.
"There is something nice about being able to directly help people with the work you are doing. You see the results sooner, and in a small business environment, you can personalize the software for their needs. While I look forward to seeing StrumTech grow into a larger business that can tackle even greater problems, I never want us to lose touch with our small business roots and ideals."