At the Intersection of Art and Healing
By Hannah Steinkopf-Frank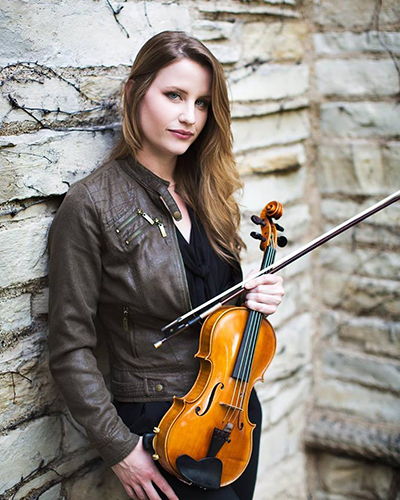 Through combining music and meditation, University of Miami graduate Arianne Urban wants to bring empathy and humanity to the forefront of her work as an artist.
Growing up in Miami, Urban was introduced to the violin at age 7 during a presentation at her Montessori school. "I knew from the moment my bow touched the string that violin was my calling."
For high school, she attended New World School of the Arts and performed in various orchestras outside of school, including with the Miami Music Project and the Greater Miami Youth Symphony.
"New World provided incredible opportunities to seriously pursue music as well as explore other mediums of creativity. Becoming a professional violinist was never a question for me. When the time came to apply to college, the same year the Stamps Scholarship was created for a string quartet, I had to apply. I knew that playing in a collegiate string quartet, studying chamber music, and cultivating a unique sound with three other incredible musicians was the opportunity of a lifetime."
During college, she was involved with Sigma Alpha Iota, a women's music fraternity, and immersed herself in the musical languages of jazz, bluegrass, and pop.
"Delving into music that required a shift in mindset from playing other composers' music to creating my own melodies was extremely humbling, terrifying, and liberating. Exploring jazz standards with pianist Vince Maggio and learning how to play bluegrass with Mark O' Connor completely changed my definition of what it meant to be a true artist. As a young violinist, that was an exhilarating realization for me."
Playing with three other Stamps Scholars for four years allowed for an "organic development of an intuitive bond, both musically and personally, that propelled my musicianship to a level I could not have attained otherwise."
Performing with Bobby McFerrin and Chick Corea at the Arsht Center was one of her most memorable experiences at the Frost School of Music. "Witnessing these brilliant artists as they created music from the core of their souls made me realize the vast potential of my own artistic expression. Bobby's energy was palpable, raw, and extremely moving."
After graduating in 2014, she moved to Chicago to attend DePaul University for a master's in music. Within her first year, she became the concertmaster of the DePaul Symphony Orchestra and won the annual Concerto Competition performing Brahms's Double Concerto for violin and cello with her colleague Sonia Mantell.
During her time at DePaul, Urban completed a two-year residency with the prestigious Civic Orchestra of Chicago, an apprenticeship orchestra for the Chicago Symphony Orchestra. At the Civic, she advanced to a rotating concertmaster role and worked closely with Yo-Yo Ma, the orchestra's creative consultant. It was during a lecture between Yo-Yo Ma and Chicago installation artist Theaster Gates that Urban's idea for fusing mindfulness and music came to fruition.
"I walked up to Yo-Yo after the lecture and told him about the idea. His response was incredibly supportive, excited, and authentic. He encouraged me to pursue my passion for mindfulness and conscious living in macro scenarios beyond what I thought was possible. It was undoubtedly one of the most transformative days of my career."
Currently, Urban is an active freelance professional violinist and private violin teacher. She has worked with world-renowned artists including Andrea Bocelli, Johnny Mathis, Katharine McPhee, and David Foster. She also regularly works with Chicago orchestral arranger Matt Jones and played on albums for Grammy-nominated artists Chronixx, PJ Morton, and Ledisi.
"I feel extremely grateful to play music and am excited to find innovative ways of giving back through my art form."
Outside of music, she is passionate about meditating and higher consciousness learning. She is currently curating a mindfulness curriculum that will fuse her two passions — music and meditation — to teach others how to use the power of conscious awareness to transform their personal reality.
Her short-term goal is to continue building a global musical network as a performer and use her connections to create collaborations that will bring light and healing to social injustices in the world today. Her long-term plans include expanding her social impact as a performer, meditation teacher, personal development coach, and world traveler.
"The Stamps Scholarship gave me opportunities to explore and refine the delicate balance of being both an effective leader and a team player. Most importantly, it required and enabled deep self-reflection while inspiring a commitment to actualizing new effective ways of contributing to the betterment of society."