April 11, 2018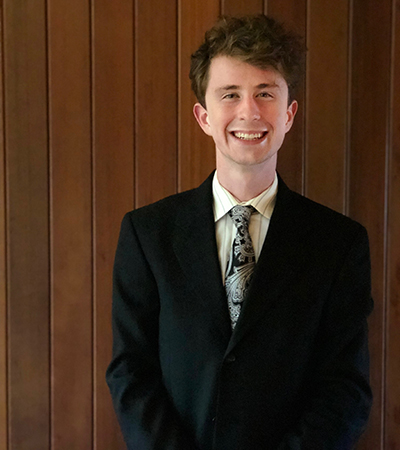 ATLANTA – University of Pittsburgh Stamps Scholar Dennis Doyle is a recipient of the 2018 Beinecke Scholarship.
Established in 1971 in honor of Edwin, Frederick, and Walter Beinecke, the scholarship provides substantial graduate school funding to students who show exceptional promise in the areas of humanities and social sciences. Since 1975, the program has supported more than 628 college juniors from over 110 undergraduate institutions.
Doyle is a junior at the University of Pittsburgh studying chemistry and studio arts. Through his artwork, he explores concepts of safety, identity, family history, and science. As a part of Pitt's London Field Studies program, he is conducting research in Pittsburgh this semester that will culminate in an intensive field study in London in May.
Through site visits, questionnaires, and interviews, Dennis is exploring the concept of safe space through the built environment and installation artwork. Using this research, he hopes to further inform his art practice to create work that conveys a sense of comfort and safety.
Additionally, he participates in the University of Pittsburgh Physics Artist-in-Residence program. Select artists are chosen to immerse themselves in the physics research conducted by professors on campus. After a series of interviews, lab observations, and research talks, Doyle and his collaborator will create a group of artworks responding to the research. Under the mentorship of physicist Dr. Gurudev Dutt, the visual work will reflect on the quantum control of condensed matter systems.
Doyle plans to use the Beinecke Scholarship to attend graduate school for a master's in fine arts in interdisciplinary art.
"While there, I hope to explore new media and techniques while generating socially engaged content in my work," said Doyle. "This scholarship means so much to me, representing years of hard work and amazing support from my professors, peers, and family. This award provides the opportunity to explore my passions and forge a future in the arts."
Doyle joins a legacy of excellence. Morehouse College Stamps Scholar Da'Von Boyd was awarded the Beinecke Scholarship in 2016. Boyd is a first-year doctoral student in the Department of Political Science at Yale University, where he is working on political philosophy research. He is interested in continuing to deconstruct and contribute to African-American political thought and feminist and neoliberal theory.
The Stamps Family Charitable Foundation supports scholarships to students at 40 partner universities and colleges across the country. Scholars are selected for their academic merit and leadership potential. Stamps Scholarships often cover tuition, room and board, and other expenses as well as enrichment funds used for internships, study abroad, research, and other educational and professional opportunities.
For more information, contact
Connelly Crowe
Director of Communications and Scholar Experience
connelly@stampsfoundation.org