April 13, 2018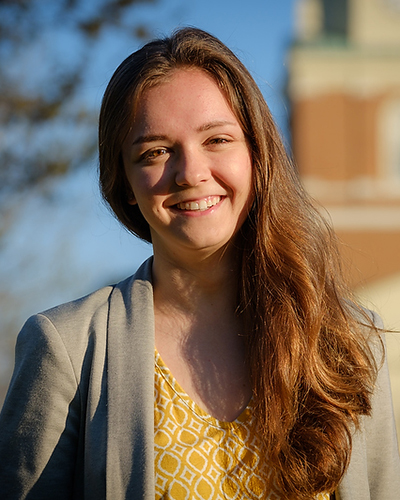 ATLANTA – Wake Forest University Stamps Scholar Angela Harper is a recipient of the 2018 Gates Cambridge Scholarship.
The prestigious postgraduate scholarship, established through a donation from the Bill and Melinda Gates Foundation, has previously been awarded to scholars from 103 countries and 600 universities, including more than 200 schools in the United States.
Originally from Clifton Park, New York, Angela Harper graduated from Wake Forest University in 2017 with a degree in physics. That year, Harper began a year-long Master in Philosophy (MPhil) in physics at Cambridge University as a Churchill Scholar.
At Cambridge, Harper is involved in the Fisher House Choir and STEMNetwork, a Cambridge STEM volunteering group. She is also part of the St. Vincent de Paul Society, which delivers soup to the homeless in Cambridge, and recently became treasurer of the Middle Common Room (post-graduate) bar. She is conducting research at the Cavendish Laboratory on Li-ion battery systems and hopes to use her findings to further the field of renewable energy. In October 2017, she was awarded the LeRoy Apker award from the American Physical Society, which also gave money to Wake Forest University's Department of Physics for furthering undergraduate research.
Over the next three years, she will pursue a Ph.D. in physics at the University of Cambridge as both a Gates Cambridge Scholar and a Winton Scholar through the Winton Programme for the Physics of Sustainability. She will study materials for energy storage via computational techniques and hopefully help to develop higher performing batteries.
"At a time when understanding and developing technologies for storing renewable energy is so important, I am honored to be able to pursue such a research project and have support from both Gates and Winton," said Harper. "These two programs represent who I try to be as a scientist: Gates is focused on community engagement and interdisciplinary study, and I have always been a champion of women in STEM and would like to continue to share my science with the wider community. Winton is a program focused entirely on sustainability, which I feel fits succinctly into my research plans. "
Stamps Scholar Zac Dannelly (United States Naval Academy) was awarded the Gates Cambridge Scholarship in 2016 to seek an MPhil in technology policy at Cambridge's Judge Business School.
The Stamps Family Charitable Foundation supports scholarships to students at 40 partner universities and colleges across the country. Scholars are selected for their academic merit and leadership potential. Stamps Scholarships often cover tuition, room and board, and other expenses as well as enrichment funds used for internships, study abroad, research, and other educational and professional opportunities.
For more information, contact
Connelly Crowe
Director of Communications and Scholar Experience
randy@stampsfoundation.org