April 27, 2018
ATLANTA – Stamps Scholars James Brahm (Air Force Academy), Ashley Salgado-Padin (West Point), and Maddy Tung (Air Force Academy) are recipients of the 2018 Harry S. Truman Scholarship, joining three Stamps Scholars who have previously received the scholarship.
Named in honor of US President Harry S. Truman, the Scholarship supports graduate education for the next generation of public service leaders. Past Truman Scholars currently work in the White House, the US Supreme Court, and every branch of the Armed Services as well as are influential leaders in academia, nonprofits, and research.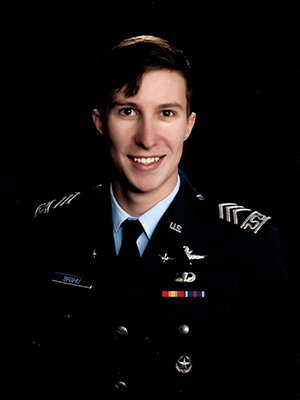 United States Air Force Academy (USAFA) junior James Brahm from Huntsville, AL, is majoring in computer science with minors in nuclear weapons and Chinese. Brahm competes as part of the USAFA Cyber Team and is interesting in hacking, artificial intelligence, and deterrence theory. He has also completed survival training and earned jump (skydiving) wings and is learning to fly T-53s. The Stamps Foundation provided him the resources to study the role of technology in Chinese society, participate in an Aspen Institute Symposium on the future of western democracy, and purchase computing equipment to conduct machine learning research. This summer, he will conduct quantum computing research in Palo Alto.
"I am deeply committed to public service, and that commitment was what led me to both the Air Force Academy and to apply for the Stamps Scholarship and the Truman Scholarship," said Brahm. "I view receiving the scholarship as a renewed challenge to use my life to serve the greater good."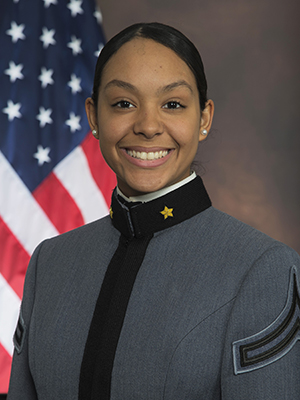 From Canóvanas, Puerto Rico, Ashley Salgado-Padin is a law and legal studies major at the United States Military Academy (West Point). Her academic interests include civil rights and criminal justice reform, especially within the realm of mass incarceration. Beyond academics, her passion is to give back in any way she can. She is as a manager for the Army softball team, tutors minority cadets through the Cultural Affairs Seminar, and mentors underprivileged inner-city children through the Youth Impact Program. One of her proudest accomplishments was creating a drive to send relief supplies to Puerto Rico after Hurricane Maria. She hopes to commission as a military intelligence officer in the Army and use the Truman Scholarship to pursue a juris doctorate degree with a focus in civil rights law at New York University after serving in the military.
"The Truman experience has been very rewarding, as it has given me the time and the space to sit down and reflect on my skills and life experiences and how I can best use them to be both a public servant and an agent of change," said Salgado-Padin. "What most excites me about receiving the Truman Scholarship is getting to be a part of such a diverse and service-oriented community."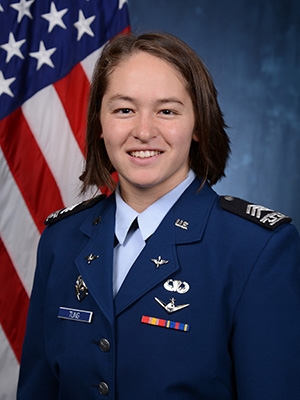 USAFA student and Santa Monica, CA native Maddy Tung is majoring in mathematics and humanities with a Chinese minor. She conducted onsite research into the role of technology in the peacekeeping/development mission in Kosovo and investigated artificial intelligence and technology in China. She also participated in a symposium investigating strategic defense issues and an Aspen Institute program on western democracy. Additionally, she earned her Air Force Parachuting Badge after completing five solo free-fall skydives through the Academy's jump program and holds her private pilots license. She enjoys everything outdoors, from ice and rock climbing to hiking and backpacking. She combined these interests last summer teaching survival skills at Philmont Boy Scout Ranch as a service academy ranger. This summer, she will lead the squadron responsible for teaching these tactics to younger cadets. She will also work at Pacific Northwest National Labs on applications of mathematics in analyzing information related to the prevention of the use of weapons of mass terror.
She said, "It is my hope that with the Truman Scholarship, I will be better able to serve by utilizing computational and analytic techniques to help address humanitarian issues including post-conflict development and reconstruction,"
These Scholars join a legacy of excellence. Last year, Stamps Scholars Kristiana Yao (University of Miami) and Mikaela Meyer (Purdue University) received the Truman Scholarship. Wake Forest University Stamps Scholar Sarah Rudasill was a 2016 recipient.
The Stamps Family Charitable Foundation supports scholarships to students at 40 partner universities and colleges across the country. Scholars are selected for their academic merit and leadership potential. Stamps Scholarships often cover tuition, room and board, and other expenses as well as enrichment funds used for internships, study abroad, research, and other educational and professional opportunities.
For more information, contact
Connelly Crowe
Director of Communication and Scholar Experience
connelly@stampsfoundation.org