ATLANTA, GEORGIA – June 18, 2018 – The 13th class of Stamps Scholars includes 230 top students from across the country attending 30 partner universities. Selected from almost 300,000 applications, these Scholars have diverse academic interests such as medicine, education, engineering, history, public policy, and visual and performing arts.
Stamps Scholars are chosen for their academic excellence, leadership experience, and exceptional character. The value of Stamps Scholarships to the new class of Scholars over their time in school is worth up to approximately $36 million.
"Given its selectivity and benefits, the Stamps Scholarship has become one of the most prestigious scholarships for high school seniors," said Don Bishop, associate vice president for enrollment at the University of Notre Dame. "The Stamps Scholarships are one of the most important and attractive offerings among our merit programs."
At many partner universities, the Stamps Scholarship covers the total estimated cost of attendance for four years of undergraduate study and also includes an enrichment fund that Scholars can use for academic and professional development, ranging from study abroad to internships to independent research. The Stamps Foundation also supports scholarships for current students at several colleges and universities.
Stamps Scholars benefit from a national network of peers and the opportunity to attend biennial conventions and other events where Scholars gather together and learn from recognized community leaders.
Stamps Scholars are known for their significant contributions to their local campuses and communities around the world. One of the new Scholars, Parsa Aghel, will join the Stamps community at the University of Oregon. The Portland, Oregon, native served as Sunset High School student body president and co-founded its Red Cross chapter.
"I hope to continue my passion for helping others by going into public service, ideally as an attorney general or district attorney," Aghel said. "In college, I plan to further deepen my understanding of economics and political science and to continue applying this gained knowledge in the community, whether that's through student clubs, community awareness, or educating others."
For many, the Stamps Scholarship allows them to study at the top colleges for their career path. Incoming University of Missouri Scholar Jessica Blake from Dublin, Ohio, fell in love with broadcast journalism as a freshman at Dublin Jerome High School and served as an anchor for the morning news show and editor for the school magazine. At the University of Missouri, she wants to tell stories that fight for justice and truth.
"Paired with a world class journalism program, the Stamps Scholarship exceeded any other school I had looked at in opportunities for research, networking, study abroad, and service," she said. "When I was offered the scholarship, it opened so many doors and enabled me to dream big."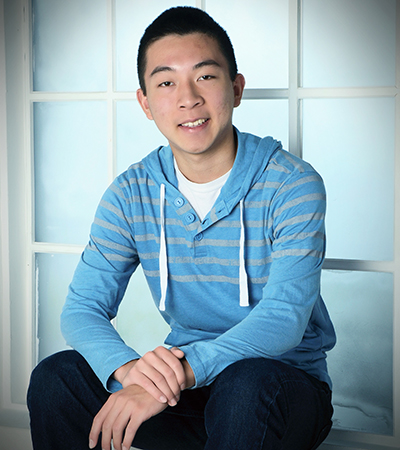 The extracurricular possibilities are a draw for many. University of Michigan Scholar Jensen Hwa from West Bloomfield, Michigan, built his own desktop computer in middle school. At West Bloomfield High School, he was involved with Health Science Club, debate team, and Earth Club, where he spearheaded the effort to station a new solar array that will be one of the largest school installations in Michigan.
"I aim to take on a leading role in the field of software development, exploring innovative solutions to societal challenges by leveraging cutting-edge technology such as artificial intelligence and machine learning," he said. "After visiting Ann Arbor and meeting the tight-knit community of current Stamps Scholars, I knew that Michigan would be the best fit for me."
Stamps Scholars are among the recipients of prestigious awards including Fulbright, Gates Cambridge, Goldwater, Marshall, Rhodes, Truman, and Schwarzman Scholarships. Stamps alumni are working with top companies and organizations such as Google, Goldman Sachs, and NASA and are pursuing graduate degrees at prestigious institutions such as Harvard University, the Massachusetts Institute of Technology, Stanford University, and the University of Oxford.
"Through our strong partnerships with 40 exceptional colleges and universities across the country, we take great pride in our support of these remarkable young people. When we meet them, we so often hear about their deeply personal ambitions, which might be in music, science, design, business, or medicine. Penny and I love to learn about their unique goals, as we know that they, as Stamps Scholars, will have the financial support to pursue their ambitious aspirations. They will also benefit from the Stamps community, both on their campus and through the national network of Scholars, as well as from advice from faculty and alumni at their chosen university," said Roe Stamps, founder and chairman of the Stamps Foundation.
Meet our new Scholars: www.stampsfoundation.org/yearbook
About the Stamps Foundation
In 2006, Penny and Roe Stamps created merit scholarship programs for undergraduates at their alma maters – the University of Michigan and the Georgia Institute of Technology. Since then, the Stamps Scholars community has grown into a nationwide network of colleges and universities with more than 1800 current Scholars and alumni. Find out more at StampsFoundation.org.
###
For more information, contact
Connelly Crowe
Director of Communication and Scholar Experience
connelly@stampsfoundation.org