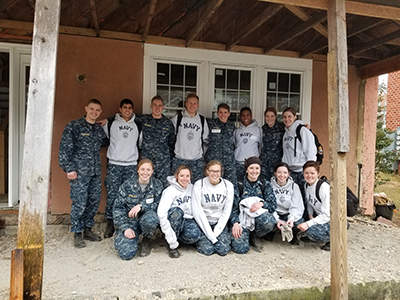 On Saturday, February 23, 2019, Stamps Scholars at 25 partner schools participated in the fourth annual Stamps National Day of Service. The recurring theme, commUNITY: uniting to serve, encouraged Scholars across the country to give back in ways that matched their skill sets and community needs. Collectively, Stamps Scholars provided over 1000 hours of service at local gardens, food banks, and nonprofits addressing issues ranging from homelessness to childhood education to curbing the effects of natural disasters.
Many partner schools took on environmentally-focused projects: Tulane University Scholars worked with the Oyster Shell Recycling Program at the Coalition to Restore Coastal Louisiana. Georgia Institute of Technology Scholars' Day of Service activities included Trees Atlanta, Parklane Discovery, and Clyde Shepherd Nature Preserve. Georgia Tech described commUNITY as "working together to advance the greater good for the Institute, Atlanta, and even the world. By engaging in service together, we are stronger and more effective in teamwork and example."
Other Scholars took on creative endeavors. Virginia Tech Stamps Scholars volunteered with Literacy Volunteers, making movies for Literacy. The Ohio State University students helped the resident art therapist at Riverside Methodist Hospital and Bing Cancer Center. The Scholars made self-help books, art kits, and door decorations in order to make a positive impact on the mental wellness of patients. They said, "commUNITY to the Ohio State Stamps Scholars means utilizing the unique talents and passions of individuals and aligning them to fit the needs of the local community."
*Featured here is a photo album highlighting the participants of this year's day of service. Hover over the photos to learn how Stamps Scholars gave back to their local communities.