ATLANTA, Georgia — May, 2019 — Robert Bradford (Wake Forest University), Katie Davis (Louisiana State University), Charlotte Dungan (Mercer University), Nate Schlosser (United States Military Academy), and Eleanor "Lily" Turaski (Georgia Institute of Technology) are recipients of the 2019 Barry Goldwater Scholarship, joining nine Stamps Scholars who have previously received the scholarship.
Named in honor of U.S. Senator Barry Goldwater, the Scholarship encourages outstanding undergraduate sophomores and juniors to pursue careers in mathematics, the natural sciences, and engineering.
Wake Forest University physics major Robert Bradford from Huntsville, Alabama, has focused on experimental research in the Jurcescu Organic Electronics Research Laboratory. With support of the Wake Forest University Research Fellowship, the college junior has served as the primary data collector and sample fabricator on a project based around nano-scale current rectifiers in the context of molecular monolayers. Results are currently in the revision process with a major scientific journal.
"The Stamps Scholarship has enabled me to pursue my passion in science," said Bradford. "By giving me room to experiment academically, it has helped me direct my path toward physics and academia, where I feel most at home."
*****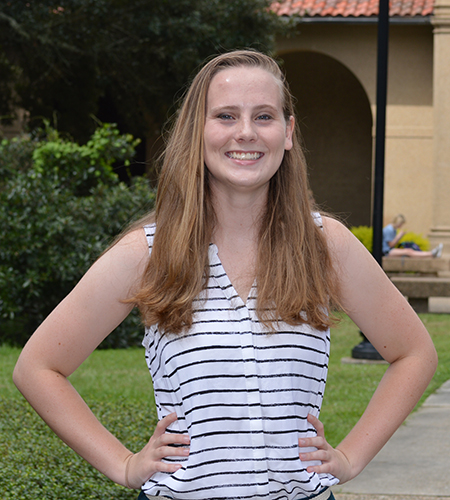 From Frisco, Texas, Louisiana State University junior Katie Davis is majoring in Spanish and natural resource ecology management with a concentration in wildlife ecology. Davis is the co-president of the LSU Outdoors Club, a volunteer at the LSU Museum of Natural Science, and a member of the LSU Quidditch team and an intramural soccer team. She has volunteered with university efforts to plant trees and clean up litter and at a bird-banding station. On campus, she works in a conservation genetics lab, learning next-generation DNA sequencing. In the field, she has caught sparrows and rats in Louisiana's coastal marshes and fairywrens in Australia. Her current project is focusing on genetic connectivity and population structure in seaside sparrows, which reside in vulnerable coastal marsh habitats. She has also studied abroad in Argentina, where she improved her Spanish, and in Australia, where she learned about the unique fauna and gained experience in the field and the lab. She will return to Argentina this summer to radio track sickle-winged nightjars, a little-known nocturnal bird. She plans to pursue a research career in conservation biology, addressing questions that may help reduce humans' impacts on the natural world.
"I'm particularly interested in how landscape-level processes impact movement and gene flow between wildlife populations," she said. "Being a Stamps Scholar has offered me the freedom to pursue my passion and dedicate extensive amounts of time to my research job."
*****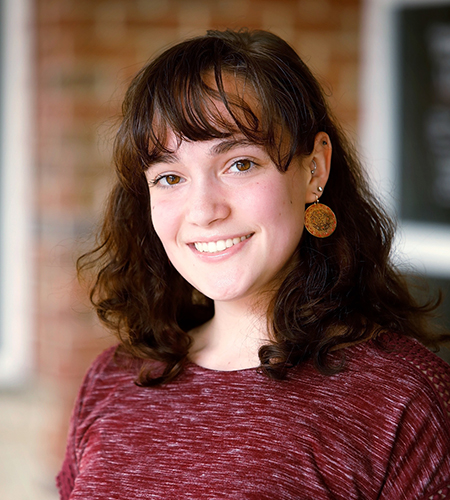 Mercer University junior Charlotte Dungan from Marietta, Georgia, is majoring in environmental engineering. Dungan is the vice president of Mercer's civil engineering club and a member of Phi Kappa Phi and the Phi Eta Sigma honor societies. She is also Mercer's first recipient of the Ernest F. Hollings Undergraduate Scholarship from the National Oceanic and Atmospheric Administration. In addition to the Goldwater Scholar, she plans to apply for the National Science Foundation Graduate Research Fellowships Program (GRFP) and other graduate school programs. She hopes to study water resource engineering at graduate school.
"The Stamps Scholars program has given me the ability to explore the unknown as an undergraduate. It has allowed me to focus time to my passions, like research, which has made the Goldwater scholarship more obtainable," said Dungan. "Being a Stamps Scholar has allowed me to grow not only as an engineer, but also as a person."
*****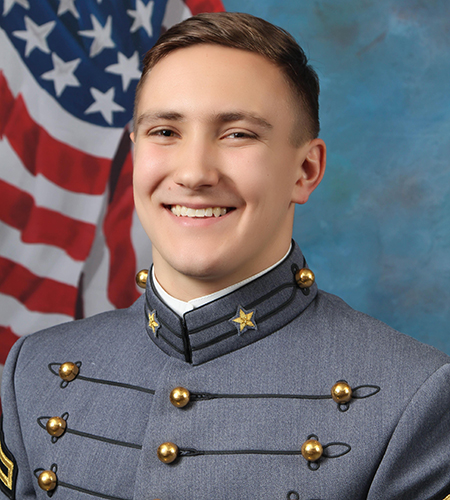 Raised in Charleston, South Carolina, Nate Schlosser is a mechanical engineering major with a biomechanics focus at the United States Military Academy. Schlosser's technical research is focused on the use of the emerging technology of wireless running sensors to identify the dynamics leading to injury. He hopes to prevent soldier injury in basic and field training environments. An interest in the military's global role led him to spend a semester studying at the Spanish military academy in Zaragoza, Spain. As a Stamps Scholar, he hopes to investigate the strategies of the U.S. and international armed forces in responding to human migration and refugee crises. His other activities include serving as executive officer of the Sandhurst Black & Gold military skills team and as a trainer for cadets preparing to attend the Sapper Leader's Course for combat engineers.
"The Stamps Scholarship has allowed me to pursue my broader research interests outside of engineering," said Schlosser. "As a future officer, the opportunity to examine the role of the military in an academic context will be invaluable."
*****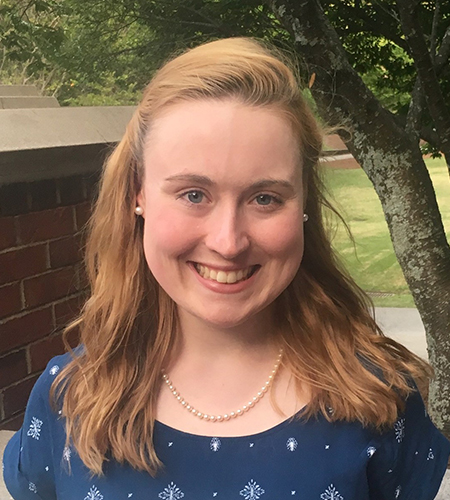 Georgia Tech sophomore Eleanor "Lily" Turaski is majoring in materials science engineering (MSE) with a chemistry minor. Turaski was selected as a Georgia Tech MSE Research Scholar, which provided her a 2018 summer research internship. She fabricated thin-film solar cells for use in space applications. Her research focused on exploring techniques for molybdenum deposition and characterization. She is also on the executive board of the Georgia Tech Material Advantage club, a staff member for the Materials Innovation Learning Laboratory, and former president of Women in MSE. She won the Georgia Tech President's Undergraduate Research Award for Spring 2019, the 2017 Quantum Shorts International People's Choice Award for her quantum-themed short story submission, "A Future with Fortran," and the 2019 ASM International (Atlanta Chapter) Undergraduate Student Award for Materials Science Engineering. She is interested in studying electronic materials for renewable energy applications.
"I have used my Stamps Enrichment funds to attend MSE conferences, and I will spend this summer in Italy studying climate science," said Turaski. "None of these would have been possible without the incredible support of the Stamps Foundation, and I am so thankful and grateful to be a Stamps Scholar at Georgia Tech."
These Scholars join a legacy of excellence. Nine previous Goldwater Scholars graduated from Georgia Tech, LSU, Mercer University, Purdue University, University of Georgia, University of Illinois, University of Maryland, United States Military Academy, and Wake Forest University. Stamps Scholars have also gone on to be awarded the Truman, Rhodes, Marshall, Knight-Hennessy, Churchill, and Schwarzman Scholarships.
About the Strive Foundation
The Strive Foundation supports scholarships to students at 40 partner universities and colleges across the country. Scholars are selected for their academic merit and leadership potential. Stamps Scholarships often cover tuition, room and board, and other expenses as well as enrichment funds used for internships, study abroad, research, and other educational and professional opportunities.
For more information, contact
Connelly Crowe
Director of Communication and Scholar Experience
connelly@stampsscholars.org